大众将在天津建造自动变速器工厂
文章来源:中国汽车发动机网-王兴宇 发布日期:2012-09-04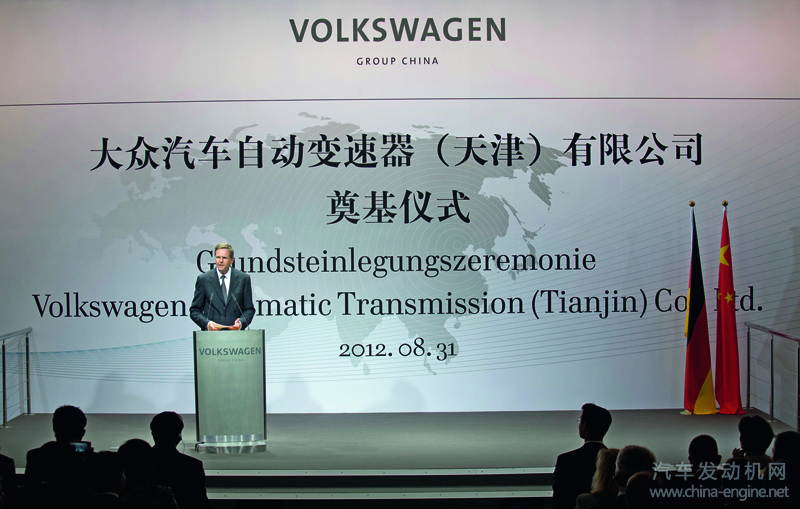 大众集团正在全力拓展它在中国的生产网络。8月31日,全新变速器工厂的奠基仪式在天津举行。德国经济技术部部长philipp Rosler博士、天津市委副书记何立峰以及刚上任的大众中国总裁兼首席执行官Jochem Heizmann博士出席。
大众天津变速器工厂设计产能为45万台,预计将会给天津创造超过1500个就业机会,第一期投资预计超过2.3亿欧元。新工厂预计在2014年底投产。大众天津变速器工厂将会是大众集团旗下技术含量最高、标准最高的工厂,同时也是最经济环保的工厂。
大众集团同时将同天津本地的职业学校合作,成立技术中心,旨在培养一流的机床技术人才。届时将会引进德国培训系统标准,开展双重职业培训项目。
中国是大众集团销量最大的市场,在2011年大众集团共向中国消费者提供了226万辆汽车产品,在今年前7个月已经销售超过151万辆,增长17.1%。

Volkswagen Group to build new transmission plant in China

Wolfsburg/Tianjin, 31 August 2012 - The Volkswagen Group is expanding its production network in China with a new transmission plant in Tianjin. Today's foundation stone ceremony was attended by Dr. Philipp Rösler, the Federal Minister of Economics and Technology, He Lifeng, Deputy Party Secretary of Tianjin, and Prof. Dr. Jochem Heizmann, Member of the Board of Management of Volkswagen Aktiengesellschaft and responsible for the newly-established Group function of 'China'.
The plant in Tianjin is designed for an annual production capacity of 450,000 units. Over 1,500 new jobs are to be created at the new site. Investment in the first stage of the plant totals approx. €230 million. Production is scheduled to begin at the end of 2014. Tianjin is one of the largest cities in China and is located some 150 kilometers east of Beijing.
"Our new transmission plant is further confirmation of the inseparable bond between China and Volkswagen. Tianjin will become a cornerstone of our Chinese production network and a driving force for the economy in the entire region", Heizmann said in Tianjin. Volkswagen is basing construction of the Tianjin plant on highest technical standards and focuses on the resource efficiency and environmental compatibility of production plant and methods.
Volkswagen will also be joining up with the best local vocational schools to set up a competence center for tooling technology in Tianjin to train teachers with a view to meeting demand for technically trained and specialized skilled employees in the medium term. This project includes the introduction of a dual vocational training program modeled on the German system.
The People's Republic of China is the largest sales market for the Volkswagen Group. In 2011, the company delivered 2.26 million vehicles to customers in the country. In the first seven months of this year, deliveries rose by 17.1 percent to 1.51 million units.